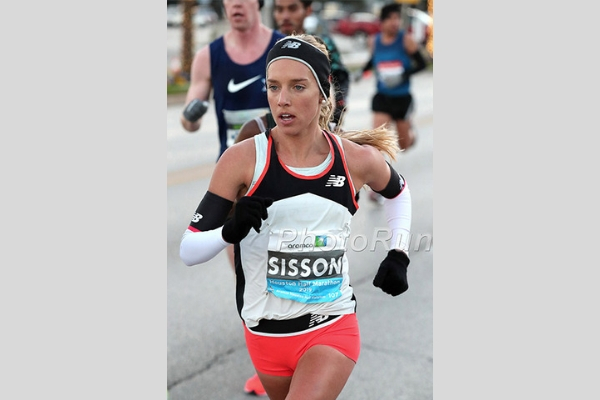 I'll start by answering the two questions I posed at the top of last week's newsletter:
1. No, Jim Walmsley did not break 64 minutes at the Houston Half Marathon on Sunday. But he did run 64 flat, which, per USATF rules, will land him a spot in the 2020 U.S. Olympic Marathon Trials. And for what it's worth, he paced himself really well. He's taking a high (but certainly not unheard of) level of pure running fitness into his spring/summer ultramarathon campaign, which should translate very well to the trails if he can stay healthy and not overcook himself.
2. Kara Goucher did not fare so great at the Houston Marathon, dropping out with a hamstring injury 19 miles into the race. It was, by her own admission, not the race she had hoped to run. And, in all likelihood, it may have been the last serious marathon she'll ever compete in. But if my conversation with her on Episode 27 of the morning shakeout podcast provided any insight into the direction her head and heart are pointed, it wouldn't surprise me to see her dip her toes in the dirt in the not-too-distant future.
Onto a few of the bigger highlights from Houston:
— Emily Sisson's near-American record clocking of 1:07:30 at the Houston Half Marathon shouldn't come as much of a surprise—it should only further solidify her status as one of America's most exciting and versatile road racers. The woman has range that few others in this country can match and earlier in the week it was announced that she'll make her marathon debut in London alongside her training partner (and American record-holder in the half marathon), Molly Huddle. Now, the marathon is its own beast, but it wouldn't surprise me to see the 27-year-old Sisson clock something silly her first time out. Crazy thing is, she could run a lights out race in London like she did in Houston—say 2:21 or so—and it might only be good enough for fifth place like it was this past weekend. London is LOADED. Brigid Kosgei, who was nearly two minutes up on Sisson in Houston on Sunday, is in the race, along with six other women who have run under 2:20.
— Tyler Jermann was the top U.S. male in the marathon, running a three-minute personal best of 2:13:29. By my count, that makes 26 men who have run between 2:12 and 2:14 so far in the Olympic Trials Marathon qualifying window. The only two guys who have gone faster are Galen Rupp (2:06:07) and Worcester, Massachusetts native Tim Ritchie (2:11:55). We've got a little over a year to the Trials but holy hell is that going to be an interesting race. (Side note: It's also worth noting that Jermann won the 50K national title on the roads in 2017 and has run 2:48:56 for the distance.)
— Jermann's wife, Katy, was the second American female in Houston, running 2:33:41 in her debut marathon. That's 4:47:10 combined, which, per Katy's Instagram post, may have set some kind of couples record. The Jermanns' Team USA-Minnesota teammates, Danny Docherty (2:18:27 debut in the marathon) and Kevin Lewis (1:03:55 personal best in the half marathon) also qualified for the Trials, rounding out a pretty impressive day for coach Chris Lundstrom's squad.
— Hat tip to Tinman Elite's Reed Fischer, who ran 62:06 to finish as top American in the half marathon. It was a 51-second PB for the sponsor-less 23-year-old, whose training group is one of the best grassroots things going in the sport right now. Just 5 seconds behind him in a personal best of his own was Parker Stinson, who right before the race announced he was being coached by three-time Olympian Dathan Ritzenhein. Perhaps more interesting to me than the fact Stinson will be coached remotely by a guy he'll ultimately be competing against for an Olympic spot a little over a year from now, was his admission that he went looking for a new coach after Brad Hudson, his former coach, "just wasn't excited about our group anymore and he was really excited about Allie [Keiffer]," which answered the question I asked in Issue 157 of this newsletter about how invested Hudson was in everyone else he was coaching at the time.
— Canadian Malindi Elmore ran 2:32:15 in her debut marathon. That's impressive by any standard, even more so when you consider she's 38 years old, unsponsored, and had a baby seven months ago. And while she might be a first-time marathoner, she's no stranger to athletic success: she was a collegiate All-American at Stanford, ran the 1500 meters for Canada at the 2004 Olympics before retiring from the sport in 2012, and then competed as a professional triathlete for a while. Elmore's longevity, range, and resilience as an athlete is crazy impressive. "I'm coming back to running now feeling much more refreshed," she told Canadian Running after Houston. "I'm enjoying the process and seeing what I can do without worrying about results."