Getting Back On (The) Track
|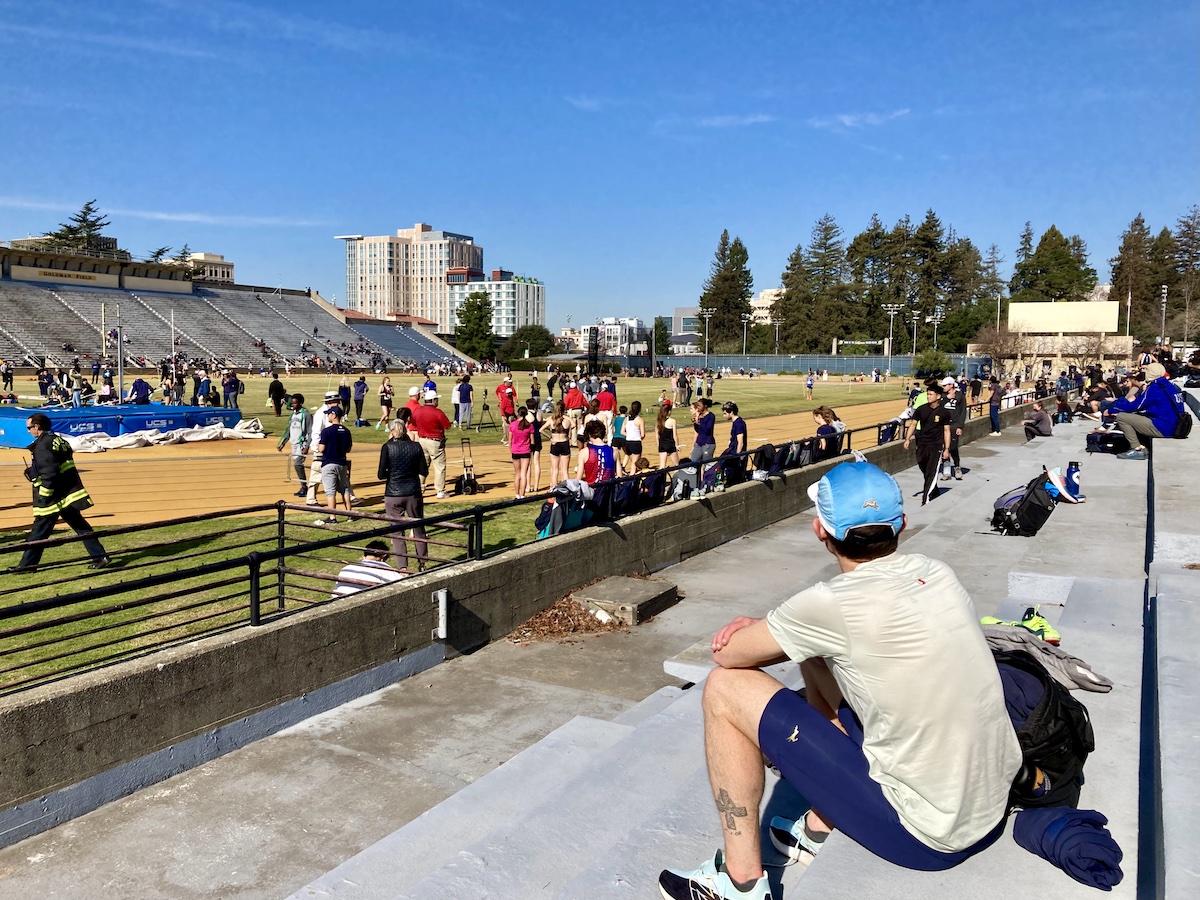 This past Saturday I raced the 1500m at the first of two winter all-comers track meets at Cal Berkeley's Edwards Stadium. It was the first 1500 I've competed in since 2004 and my first proper track race at any distance since 2009 (save running every event at a different all-comers meet as a workout a few summers ago). I laced up a pair of spikes for the first time since 2006 and as I was doing so wondered for a brief second what the hell I was getting myself into. I've raced plenty of times since I last stepped onto the oval with any real intention nearly 13 years ago but nothing compares to the intimacy, pressure, and precision of racing on the track. There's nowhere to hide, little room for error, and no way to fake your way through it. I didn't realize how much I missed that environment and how at home I felt there. Maybe it's the creative side of me but there's something about the constraints of a middle-distance race that appeals to a part of my personality. (Perhaps this explains why I thrive on tight deadlines and word counts.) Whereas in a longer race you have anywhere from a few minutes to a couple hours to hang out and solve your problems, in a 1500, you only have a split second or two to figure it all out. Blink and you'll get blown out the back. You have no choice but to think quick, respond to what's happening around you, and be assertive. Admittedly, it's not for everyone, but I digress.
On Saturday, I was in Heat 2 of 4. I thought I could run 4:18-4:20 and the cut-off for the first/fast heat was 4:15. As I did a few final strides in Lane 8 I was glad that I had a few more minutes until it was my turn to go. I also couldn't believe that I was back out here racing around a track at 39, almost 40 years old. Until very recently I thought these days were long gone, forever a part of my past. It was exhilarating, if not a bit odd, considering that I was more than twice as old as most of the competitors in the field. I was given hip number 2 and lined up next to my good friend and training partner Michael Olzinski. The high school kid to my right tried to make small talk and asked me what I wanted to do. "Race," I told him. That was the end of our exchange.
An official asked us all to step back from the start line. He told us that the starter would give one command—"runners set"—at which point we could take our position on the line, and then, when everyone was still, he would fire his gun. Time seemed to freeze for a few seconds as the stadium went silent and we waited for the loud crack. The little hairs on the back of my neck stood up straight. Before I knew it, we were barreling down the straightaway, angling for position. Heading into the first turn I was in a decent spot but made some contact with another runner who was trying to cut inside. "Man, I missed this," I thought as I put my hand on his back in an effort not to lose my balance. As we passed the finish line for the first time 300m into the race, I found myself in fourth place and caught a quick glimpse of the clock. 51 seconds, it read. "OK, good," I thought. I felt relaxed and in control. As we turned onto the back straight I moved out into Lane 2 and picked up a spot, sliding into third. "Stay here for at least another lap," I told myself. The next 400m was a bit of a blur and not much changed from what I can recall. I didn't hear or see any splits. As we passed 800m, I knew I had a decision to make: sit here for another 300m and make a move at the bell or turn the screws with 600m to go. I chose the latter knowing that I wasn't likely to blow past anyone heading into the final straightaway no matter the circumstance. With a lap-and-a-half to go I took the lead and pressed hard. I could tell that I splintered the group but that someone was still right on my tail. At the bell I saw 3:09 on the clock and surged again. No dice. The dude was still there and I knew if I couldn't shake him on the backstretch that I was probably in trouble. With about 250m to go Zach Soohoo blew past me and I had no response. It felt like he put 10 seconds on me in the final half a lap but it was only about 2-1/2. He won in 4:12.54 and I crossed lead-legged in 4:14.89. I gave Zach a fist bump and then collapsed to the track in a heap of hurt and oxygen deprivation.
As I pulled myself back up to my feet all I could think was, "Holy sh*t that was fun!" I'm not sure I can fully express in words here how much I enjoyed this experience. A lot of folks avoid the track because that 400m oval doesn't lie. It can be hard to face the truth. In my case, the 4:14.89 I ran on Saturday is 23 seconds slower than my personal best for this distance. A younger version of myself would have been embarrassed by the time, pissed that I got out-kicked, and wallowed over it for a week. But at this point of my life I'm really happy and grateful to still be doing it. I'm proud of the way I raced and pleasantly surprised with the time I was able to run. I'm excited to see what's possible in another year or two if I can stay healthy, train well, and continue to keep it fun.