Episode 90: Ask Mario Anything #2
|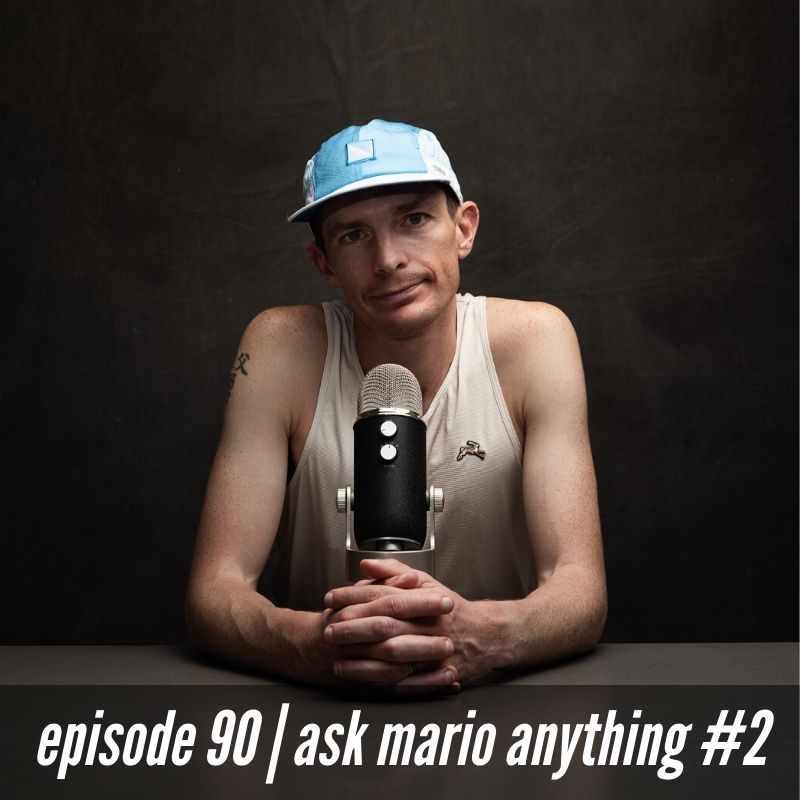 "The first thing I tell athletes who are injured is: Let's focus on what you can do, not what you can't. You can't run, and oftentimes when we're injured that's the thing that we focus on, 'God, I can't run. This is awful. It sucks.' And yes, it absolutely does but you can do something in most cases. Ninety-nine percent of people who are injured can do something, so if you can do any of those things that I just described, go and do those and that's going to give you a sense of purpose, it's going to help you feel like you're working toward something, and it's going to help you either maintain or continue to develop your fitness. If you can't, maybe it's a good opportunity to get in the gym and work on becoming a stronger athlete. If the reason you got injured is because there's weakness somewhere that you hadn't addressed, then this is your chance to go and address that. And when you are able to get back to running, you are going to have a more solid foundation than you did before you got injured and hopefully won't get injured again. So the bottom line is focus on what you can do, not what you can't do."
Subscribe, listen, and review on: Apple Podcasts | Stitcher | Overcast | Google Podcasts | Soundcloud | Spotify
Back by popular demand: Ask Mario Anything, featuring yours truly taking a wide range of reader and listener questions from Jeff Stern, editorial assistant for the morning shakeout. In this episode, I catch up with Jeff about what he's been up to of late, then I respond to your inquiries about my coaching influences, when to eat before a marathon, cross-training through injury, the best running performances of the year, writing a book, what's exciting me in running right now, and a lot more.
Thank you to everyone who submitted questions and apologies for all the ones I wasn't able to answer in this episode. Got a question for the next Ask Mario Episode? Send it my way by dropping me a line on Twitter.
Related links, references, and resources:
— Follow Mario on Instagram, Twitter, and Strava.
— Follow Jeffrey on Instagram, Twitter, and Strava, and check out his website.
This episode is brought to you by Tracksmith. Tracksmith is a Boston-based running brand, led by a group of runners who are dedicated to building classically stylish, cutting edge running apparel for real world athletes. Whether you're training through the depths of winter, or you need a special race day outfit to help power a PR, Tracksmith has you covered. I personally own a ton of Tracksmith gear and train and race in it all the time, including last month at the New York City Marathon. This holiday season, if you're trying to find the perfect gift to give a runner, consider gifting a Tracksmith Hare A.C. Membership. Hare A.C. is Tracksmith's global community of runners—I'm a founding member—and if grants you exclusive access to products, benefits and events. Of note, if you run a PR as a member you're eligible for a $100 PR Bonus. Visit tracksmith.com/hare-ac to learn more and follow them on and follow them on Instagram @tracksmithrunning.
Music and editing for this episode of the morning shakeout podcast by John Summerford at BaresRecords.com