Episode 85: Mary Ngugi and Jared Ward
|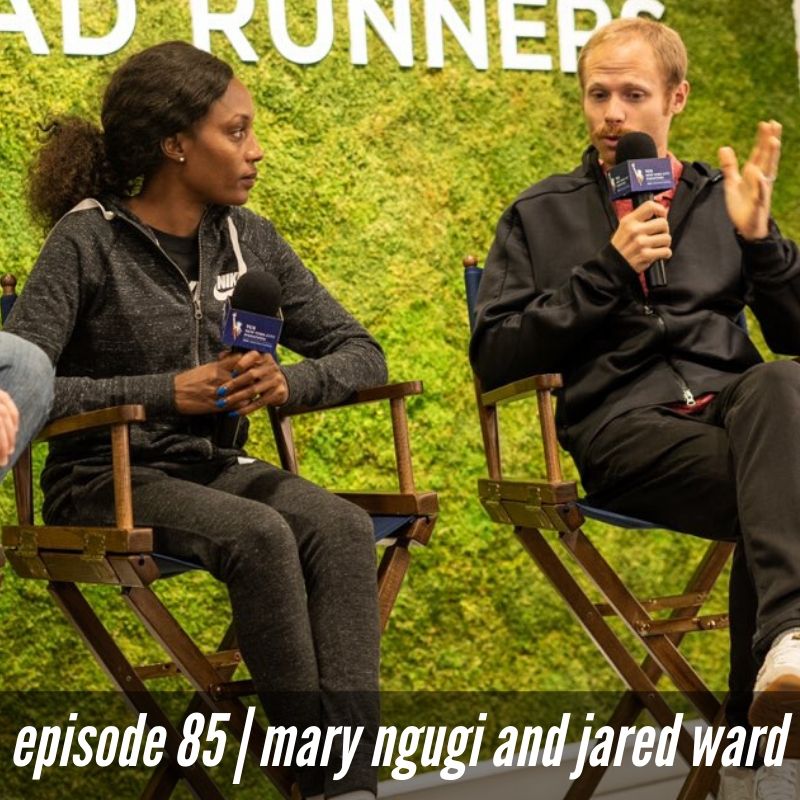 "I had a breakthrough race in Boston and training for New York has been every bit as good as the training leading into Boston and even better in some aspects, so what I'd really like to do is, I think it would be successful if I validated that performance in Boston…and say, 'yes, this is where I am and I belong.' You know, I ran 20 miles with the leaders in Boston and that was the first time running with the international leaders in a marathon that long and so I want to validate that Boston performance." —Jared Ward
Subscribe, listen, and review on: Apple Podcasts | Stitcher | Overcast | Google Podcasts | Soundcloud | Spotify
I'm excited to share a special episode of the podcast that was recorded live two days before the 2019 TCS New York City Marathon with Kenyan Mary Ngugi, who went on to finish 10th in the women's race, and Jared Ward, who was the top American male finisher in sixth place.
Ngugi, who ran a personal best 2:27:36, won silver at the half marathon world championships in 2014, captured bronze at the 2016 championships, and owns the fastest half marathon ever run on American soil, 1:06:29 at Houston in 2016. She is also the mother of an 8-year-old daughter and one of the most outgoing Kenyan athletes on social media.
Ward, whose 2:10:45 clocking was the second-fastest marathon he's ever run, was sixth at New York for the second straight year. Earlier this year he ran a personal best 2:09:25 at the Boston Marathon to finish eighth and was sixth at the 2016 Olympic marathon in Rio. He is a father of four children and will be a top contender for the U.S. Olympic marathon team in February.
Related links, references, and resources:
— Follow Mary on Instagram and Twitter.
— Follow Jared on Instagram and Twitter.
This episode is brought to you by the New York Road Runners RUNCENTER. The RUNCENTER is home to an inclusive running community based in New York City, comprised of people with all different fitness levels and running paces. It brings together people from all walks of life in an engaging and supportive environment committed to personal growth. I got to check it out before the show and it is an awesome space to take advantage of if you're a runner in New York or a runner passing through New York. The RunCenter offers a variety of group runs, fitness classes, education panels, entertainment events, and more, all to help further the NYRR's mission to help and inspire people through running. Check it out today at nyrr.org/runcenter.
Music and editing for this episode of the morning shakeout podcast by John Summerford at BaresRecords.com