Podcast: Episode 108 with Nate Jenkins
|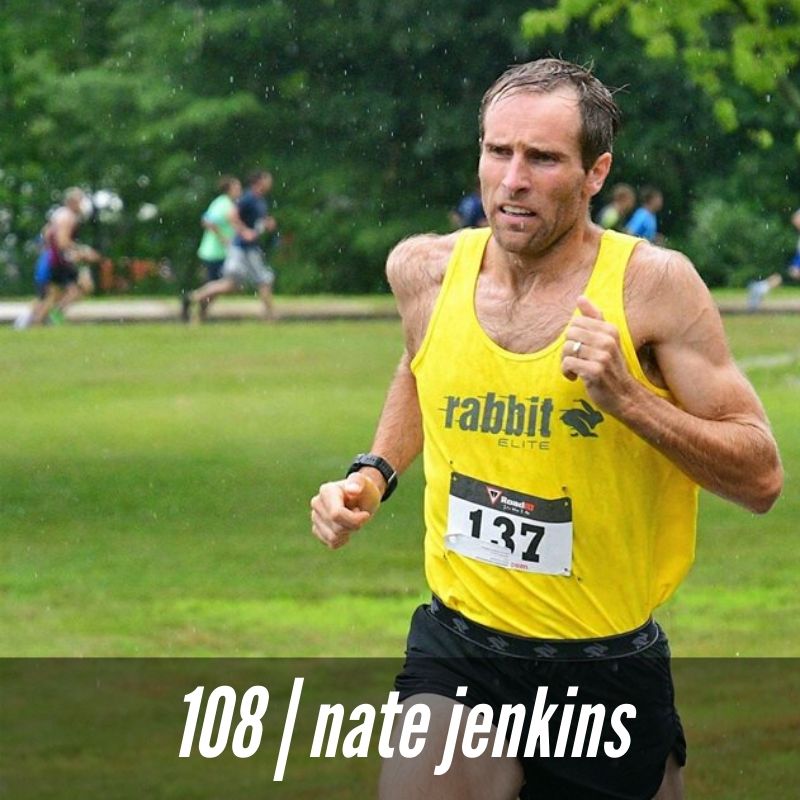 "I honestly was hobbling in and with each mile that went by I'm like, 'I'm still in the top-10. That's Uta Pippig who's cheering on the side of the road over there. I just passed a hobbled Abdi Abdirahman—he's a 2:08 marathoner. And that guy up in front of me is Meb Keflezighi.' I remember catching Meb with 800 meters to go and Meb went right back by me, and I had a moment of 'Oh, the dream was too much.' And then I said, 'No, you're gonna hobble back by him because this is the home stretch of the Olympic Trials and he's the reigning Olympic silver medalist and that's the sort of thing you pray for when you're a kid—to go back and forth with the Olympic silver medalist in the home stretch of the Olympic Trials, what more could you want?' So I think that was a big part of it, is just that perspective."
Subscribe, listen, and review on: Apple Podcasts | Stitcher | Overcast | Google Podcasts | Soundcloud | Spotify
This week's episode is a special one for me. I sat down and had a fairly long conversation with my college rival, Nate Jenkins, one of the toughest competitors I've ever known and someone I raced against regularly in the early 2000s when I was at Stonehill College and he was running for UMass Lowell.
Nate was not a big star in college—he was never an All-American or anything like that—but after school he went on to do some pretty amazing things in the sport, like finishing an incredible 7th place at the U.S. Olympic Trials Marathon in the fall of 2007, running a personal best of 2:14:56 in that race, and then representing the United States in the marathon at the World Championships in 2009.
I loved this conversation and I hope you will too. In it, Nate recounts a few epic stories, including the NCAA cross-country regional championship in 2003, where he beat me by two seconds in one of the most exciting races either of us has ever run. He told me how he knew he wanted competitive running to be a lifelong pursuit all the way back when he was in junior high school. Nate explained why he's a tough athlete to coach and a tough human being to be around in general. He talked about self-experimenting with training after college, going from a pure Arthur Lydiard approach to a Renato Canova-style marathon program and what about that led to his big breakthroughs. We got into Nate's personality a bit and how it changes when he steps to the starting line on race day. Nate also recounts his experience at the Olympic Trials back in the fall of 2007 where he finished 7th "limping as hard as I could" the last 4 miles. Along that line, Nate talks about runners dystonia, the injury that ended his professional career; we also got into what his relationship with running, training, and competition looks like right now; Nate even turned the tables on me and asked a couple questions he's been holding onto for a while, and a lot more.
Nate Jenkins: Website | Twitter | Strava
the morning shakeout: Instagram | Twitter
Mario Fraioli: Instagram | Twitter | Strava
This episode is brought to you by: 
SOAR Running: SOAR is giving all listeners the chance to win a spring kit bundle, comprised of your choice of any top, bottom and accessory from SOAR's range of products. All you have to do is head over to soarrunning.com/themorningshakeout and enter the prize draw. That's it. The winner will be selected at random and entries close at midnight on Sunday, May 3. Also, SOAR is offering FREE global shipping to morning shakeout listeners throughout April. When you check out at soarrunning.com, enter the code SHAKEOUT in the promote box and they won't charge you for shipping, no matter where you live in the world.
The Feed: The Feed is a one-stop-shop for athletes to fuel their training, stay healthy and recover quicker. Their online store offers a selection of over 200 different sport nutrition products, supplements and recovery devices. Whether you are looking to stock up on healthy snacks or improve your training or recovery, visit thefeed.com/morningshakeout to save 12% off your next order with The Feed.
Music and editing for this episode of the morning shakeout podcast by John Summerford at BaresRecords.com