Podcast: Episode 107 with Liam Boylan-Pett
|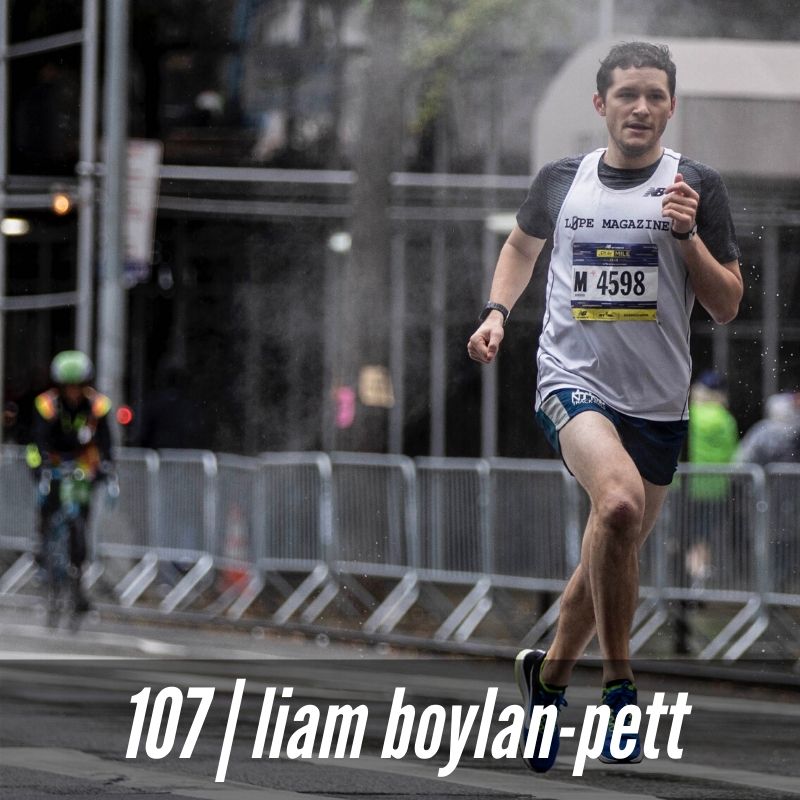 "Patience is such a tough thing to have in life, the world, in running, but it is such an important thing to have. I mean, it's just that stacking on stacking on stacking of mileage and now in this venture, for me, it's words. Not to say that I really love going back and looking at some of my early stories—and I think I did a good job at them—but now I'm excited about what's coming next and some of the ways I'm going to tell these kinds of stories, even the ones I don't know about yet."
Subscribe, listen, and review on: Apple Podcasts | Stitcher | Overcast | Google Podcasts | Soundcloud | Spotify
Liam Boylan-Pett is the founder of Lope Magazine, an online publication that releases one longform feature story each month from the track, road, or trail. Liam has a Masters degree in journalism from Georgetown and his work has appeared in Bleacher Report, SB Nation, NBCOlympics.com, Runner's World, and other publications. Liam is also a hell of a runner: he ran collegiately at both Columbia and Georgetown, and then ran professionally for a few years, posting personal bests of 1:46.66 for 800m, 3:37.05 for 1500m, and 3:57.75 for the mile.
In this conversation, we talked about when the idea for Lope Magazine first sparked and what's behind the unique name, the importance of patience in writing and running, his thoughts on the current state of the running media, what athletes can do to better tell their stories, reach more fans, and create interest in the sport, why his relationship with running now is healthier than it was when he was competing at a high level, and a lot more.
Liam Boylan-Pett: Instagram | Twitter | Strava
Lope Magazine: Website | Instagram | Twitter
the morning shakeout: Instagram | Twitter
Mario Fraioli: Instagram | Twitter | Strava
This episode is brought to you by: 
SOAR Running: SOAR is giving all listeners the chance to win a spring kit bundle, comprised of your choice of any top, bottom and accessory from SOAR's range of products. All you have to do is head over to soarrunning.com/themorningshakeout and enter the prize draw. That's it. The winner will be selected at random and entries close at midnight on Sunday, May 3. Also, SOAR is offering FREE global shipping to morning shakeout listeners throughout April. When you check out at soarrunning.com, enter the code SHAKEOUT in the promote box and they won't charge you for shipping, no matter where you live in the world.
The Feed: The Feed is a one-stop-shop for athletes to fuel their training, stay healthy and recover quicker. Their online store offers a selection of over 200 different sport nutrition products, supplements and recovery devices. Whether you are looking to stock up on healthy snacks or improve your training or recovery, visit thefeed.com/morningshakeout to save 12% off your next order with The Feed.
Music and editing for this episode of the morning shakeout podcast by John Summerford at BaresRecords.com