A Few Thoughts on "Breaking 2: The Sequel"
|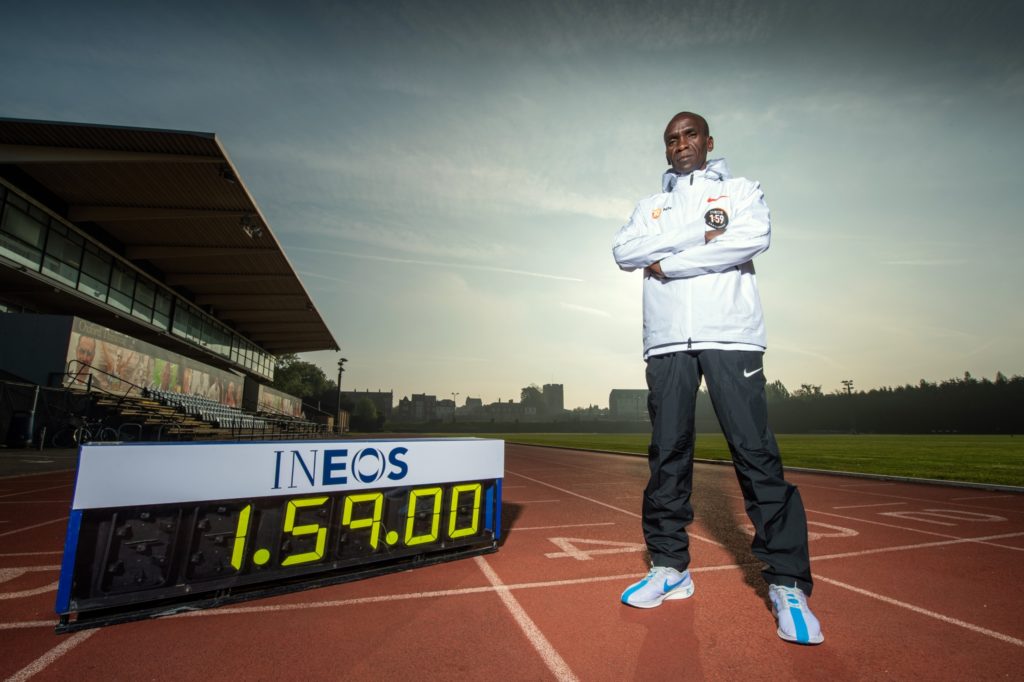 The folks at Ineos probably won't appreciate the title of this post, but that's exactly what the Ineos 1:59 Challenge, starring Eliud Kipchoge, is shaping up to be this fall. The unsanctioned sub-2hour marathon attempt, which is being bankrolled by British billionaire Jim Ratcliffe, will take place sometime between late September and early October, at a yet-to-be determined venue, but preferably in London. This means Kipchoge will not defend his title at the Berlin Marathon, or branch out to run a different major, like New York or Chicago. He'll instead be running another exhibition in an effort to break what Ineos is calling "the last great barrier of modern athletics." (Note: Ineos must have recently changed their language here. Originally they were calling it "the last great milestone in athletics.")
"It's not about the IAAF, it's about history," Kipchoge explained. "I really want to leave a big legacy." And while I'll be the first to admit that I enjoyed Nike's Breaking 2 event more than I thought I would, I've got a few issues with this upcoming attempt:
1. "The sub-2 hour marathon" makes for a compelling headline but it isn't the last milestone—or barrier—in athletics. Plenty of other great barriers have yet to be broken: the sub-2:15 women's marathon, the sub-1:40 800m, the sub-3:50 women's 1500 to name a few. "Sub-2" just rolls off the tongue nicer and is a lot more symmetrical than any of the other marks I just mentioned.
2. The proposed timing of this event will make things super interesting in the overall landscape of athletics this fall. The exhibition could conflict/compete with the World Championships, Berlin Marathon, or Chicago Marathon for ratings and media attention. Or, it might help elevate those events as well. I don't know.
3. Why not make it a legit race? On some level, this seems to be a silent admission that two hours can't be broken without a massive windshield, an army of pacers, drink handoffs, and absolutely ideal conditions. Ratcliffe, who is reportedly worth several billion dollars and recently bought cycling's Team Sky, doesn't exactly seem hesitant to spend money right now, so why not put up a budget that exceeds NYC, Berlin, or Chicago, and bring in an army of hungry, talented athletes who surely would want in on a shot at making history? Look, I could watch Kipchoge run on his own all day, but this isn't a Nike event—on that note, don't expect to hear much from the Swoosh about it since they can't control the messaging—so if you really want to make it a spectacle and increase the chances of success, I say make it the most competitive, compelling marathon ever run, and let all the best athletes have at it. And if you're going to do that, host a women's race along with it and let the ladies take a swing at sub-2:15, a barrier that is also (and officially, I might add) only 25 seconds away.
At the end of the day, it's Ratcliffe's money and he can do whatever he wants with it. I just don't know if another one-man time trial will be as exciting the second time around. (But hey, I was wrong about Breaking 2 and fully admit that I could be wrong again. Let's see how it all shakes out.)